Please accept my apologies for the prolonged inactivity at this blog. 2018 has not been as kind to me as I had initially hoped and I have found myself really rather stressed by various personal predicaments. I have for some time been burrowing myself into a hole that I cannot seem to get out of and the situation is becoming fairly desperate. Many readers will know that since September I have been a Masters student at Royal Holloway. A short while before this I was made redundant from a job I had and enjoyed with my local council, which disrupted plans to transition it to a more part-time role.
Since then I have had to self-fund, with the help of state loans, which only really cover the (increasing) cost of tuition, and an overdraft. I didn't drop out because I felt that it was the right thing to do. My gut instinct was always to get my MSc and I tend to follow that instinct religiously. The difficulty has been that I have bitten off more than I can chew in the sense that I thought I would be better able to manage finances during this academic year. This has proved not the case and, given that I am from a low income family and need to support the household by paying rent, I have found myself understandably conscious of the possibility of requiring emergency accommodation or homelessness.
I am not going to put pressure on my family by avoiding paying bills and should the worst happen, we would need to go our separate ways and they would need to downsize. Oddly enough neither my bank nor my university have really done anything of note to help me. Huge pots of funding linger for splashing out on undergrad students but scope for helping out postgrad students is almost non-existent. The end result of all this is that I am unable to do very much and have found myself feeling pretty depressed and embarrassed. I don't really have anyone else to blame for all of this, and finding work has proved extremely difficult because of scheduling issues and the fact that my CV is tailored to certain kinds of work.
Another reason for my absence is that, in truth, not very much has taken my fancy Brexit-wise over the last few weeks. There hasn't been much in the way of negotiating progress to sink my teeth into and as I see it, the cabinet are yet to decide upon their opening pitch and signal of intent as regards an eventual destination. I notice, firstly, that the country is beginning to fiddle around trying to understand the main features of the EU's Customs Union. For those of us with a grasp of it, and I consider myself somebody in this category, it can be a little tiring. So much nonsense has been spewed out regarding what it does and does not have competence over that even attempting to inform the wider public has become largely an impossible task.
There is now pretty much unanimous agreement amongst the Brexit obsessive commentariat that the UK needs to make known the general direction of travel in which it wants to head. This is really a question of deciding whether or not we remain within the EU's regulatory architecture, where we want our enforcement and surveillance regimes to come in (i.e. at the border or at the point of production), and which frameworks - such as some form of Customs Union - we wish to have continued or bespoke participation in. In essence, do we want the EEA with trimmings or a Free Trade Agreement with all the non-tariff barrier baggage.
I have found some enjoyment from the confusion still persisting over the difference between
the
and
a
customs union. Anybody requiring work of authority on what exactly the EU's Customs Union is and what the reasons are for the crucial distinction may like to read either
this
or
this
. There isn't all that much of importance to remember. The significant points are that when we leave the EU we leave the Customs Union, the Customs Union eliminates the Rules of Origin hurdle for British exporters exporting to Europe and that the Customs Union does not prevent us from signing our own bilateral trade deals. Otherwise, how would Turkey manage to secure an FTA with South Korea?
There is little point in discussing the merits of 'staying in' the Customs Union. It is an integrated mechanism within the EU's matrix of treaties and is provided for use by members alone. Monaco is an exception to this rule but through a bilateral agreement with France allows itself to be considered 'French territory' for the purposes of remaining inside the Customs Union. There is no remotely similar geographical or political precedent for the UK to take advantage of. And, to be frank, neither should we both trying to stay in it. The Customs Union does restrict the independence of our trade policy, mainly by ensuring we cannot alter certain tariffs, and there are gains to be had from leaving it.
One is also forced to wonder why the UK Government has not yet bothered to solidify its overall position on the direction in which we will be taking Brexit. My guess is that this is probably because no single proposal satisfies everybody in the cabinet, let alone parliament and country. And it is exactly here where things get really sticky. I still believe in an EEA Brexit, given that it is the only way to leave the EU without falling into third country traps and succumbing to significant hits to GDP, but I have never argued that it will be enough for all Leavers. There is a certain more-Brexity-than-thou attitude amongst the hardliners. For them, no European scheme or framework is worth remaining in, and there is no convincing them otherwise.
In recent days the worry of a no-deal fallout has crept back into my mind. The transition is not legally guaranteed and there is only so much UK pushback that can be withstood in Brussels. I keep looking over the red lines on all sides of this negotiation and they appear to point to the fact that we will either crash out with no deal or remain wedged into some bespoke Single Market framework, which has its advantages if it is secured properly using existing agreements. One possibility is that the UK Government will commit to full regulatory alignment, which would include participation in regulatory agencies and the market surveillance programme, but tell its electorate that we have achieved a meaningful exit.
There is also the question of the Irish border. We are expected to propose all-island specific solutions in order to arrive at a situation in which we do not need to remain in the Single Market or the Customs Union. The former is absolutely fanatical rubbish, the latter unlikely. The EU's official
recommendations
(page 12), published last year, say: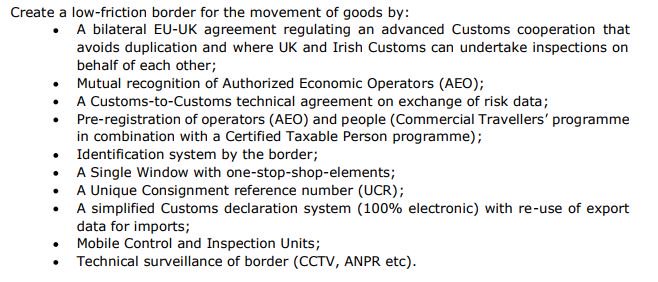 Interestingly the same report notes that even with an agreement which included all the above provisions, there would still be minimal friction. The report explains in multiple paragraphs that so-called 'Smart Border' proposals produce 'low-friction' arrangements. And even low-friction borders can be difficult for drivers and supply chains, as my
explainer
on the nature of the Norwegian-Swedish border outlined. Delving into more specific areas of trade has taught me, among many things, that no outer European Union frontier is entirely unpoliced, even where otherwise close cooperation is maintained.
I therefore take quite a pessimistic view of the likelihood of the UK being able to cobble together a workable and sufficient proposal for the Irish border. Ireland's veto over the whole thing will complicate matters and could potentially blow a huge hole in the whole withdrawal process if we do not take the issue seriously now. I expect to see soon the return of the 'unilateral non-policing' proposal, likely from Rees-Mogg or Farage, who claim we can go to the WTO, whose mission is to promote trade liberalisation, and use that as a pretext for legitimising non-policing (which wouldn't be reciprocated and could help to undermine product standards domestically).
Ultimately clarity is the immediate priority. Phase two will be judged largely on the extent to which we can at long last provide the clarity which has been missing from the Brexit debate. The cabinet must make a decision now or it will back itself into a corner we are unable to escape from. A direction of travel must be laid out,
keeping in mind
that Norway and Canada do not form a spectrum. They are two separate boxes - one of which we must open before any tinkering and arguing of the toss can take place. I have made clear which box I think this Government should open. All we need now is a little purpose and urgency from them.